Investment support
Croatia is a relatively new country and foreign investors face certain challenges they would not expect in many well-developed countries. But despite the turbulent past, these days Croatia is a relatively stable country, which has become a member of the European Union in July 2013.
Partner Konzalting can help you to identify and realize new business opportunities in Croatia by offering a wide range of services supporting the start up of new businesses or investments.
Our main goal is to be a
reliable
and
efficient partner
, aiming at a long-term relationship with our clients. Since we are familiar with the Croatian business culture and language we can substantially shorten your time-to-market by mitigating the effect of bureaucracy and other challenges.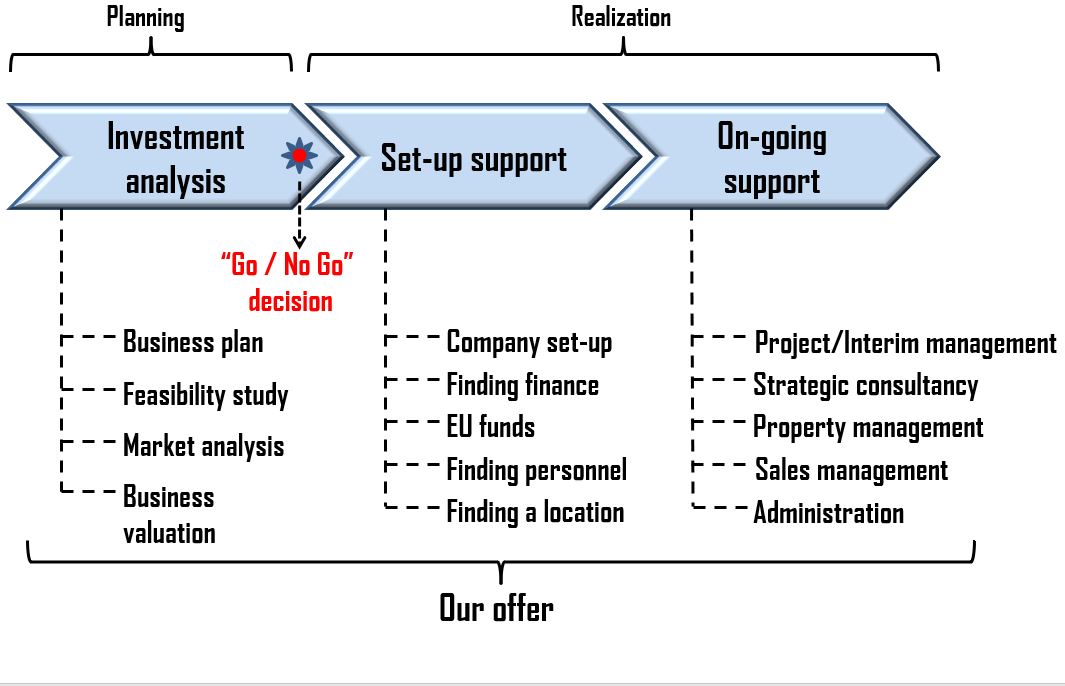 We provide the following services to our clients in the area of investment planning and support:
Business plan
If you want to start up a new business the first thing you should do is writing a business plan. This is a document which describes your vision, market situation, operations, financial figures and many other important items. In case you need external finance (for example a loan from a Croatian bank) the provider of finance will often require a sound business plan, but remember that this document is even more important for yourself, because it shows how your business is going to operate.
We can support you by offering a complete structure for a business plan and we can help you completing the document in a proper way.
Investment and feasibility studies
These studies are often used in case of new projects, which are often new businesses as well. In these studies variables like the Net Present Value and Internal Rate of Return are usually calculated and a risk analysis is also included.
We can perform such a study for you and we can also participate in finding external finance for new projects in Croatia.
Business valuation
This service provides clients with insight in the value of a company or business unit and is used in case of a possible acquisition or an investment in the company's shares.
The first step in a valuation process consists of an analysis of the industry and the company's competitive position, strategy and historic performance. Using this information and macroeconomic forecasts, future results and performance can be forecasted.
An important step is the selection of the appropriate valuation method, which depends on the company's characteristics, data availability and reliablility, and the purpose of the valuation.
The valuation model selected is used to convert forecasts into a valuation, which serves as one of the major inputs for the ultimate investment decision.
Realization of the investment
After you have decided to invest in Croatia the next phases are setting up and manage your business. We provide the following services to our clients during these phases:
- Company set up support
- Maintaining contacts with local politicians and banks
- Finding a location
- Finding finance
- Finding strategic partners
- Finding personnel
- Project and Interim Management (click
here
for more information)
- Administration and bookkeeping